About Us
The Fierté Multi-Academy Trust was established in October 2014. Working together collaboratively with the schools in the Trust enables us to develop close-knit professional collaboration that enables us to offer expertise, advice and guidance to improve outcomes for all pupils. We believe that each school in our Trust will maintain their individual and unique identity but benefit from the school to school support and collaboration networks that we are developing.
At Fierté Multi-Academy Trust we aim to prepare our students to become good citizens of the future. Through our curriculum, we teach pupils British Values and how to celebrate diversity. We aim to raise their awareness of radicalisation and extremist views, whatever the source. We have adopted the principles and advice found in 'Keeping Children Safe in Education 2021' and the 2011 'Prevent Strategy'. These are incorporated into our Trust policy on tackling extremism.
---
Values and Ethos
As a group of schools, we believe passionately in the power of working as one entity; advancing education for the public benefit with a shared moral and legal purpose. We wholeheartedly commit to supporting our local communities to thrive by maximising every opportunity for learning and care and ultimately to achieve our vision:
"Inspiring all to excellence"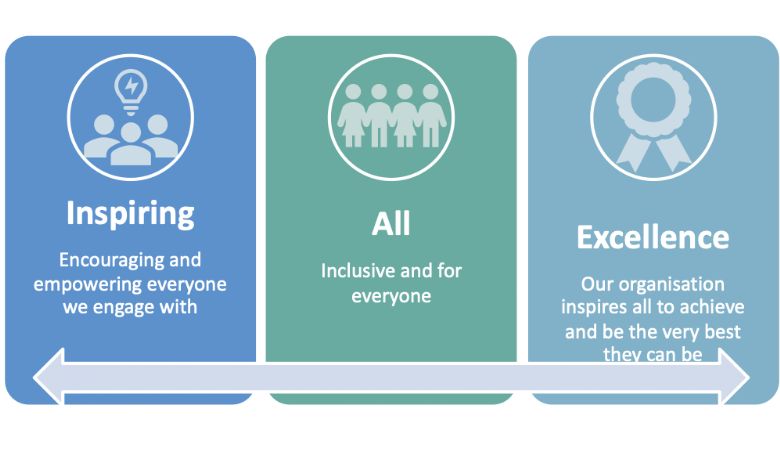 To deliver our vision we essentially focus on four key areas:
Our people – investment in our people in all areas and across all stages creating strong Trust people proposition for our children, staff and stakeholders.
Excellence – we support excellence with a systematic focus on continuous school improvement
Growth and development – sustainable growth of the Trust, ensuring strong governance, financial and operational infrastructure to support Trust growth with clear and effective communication and engagement across all schools.
Wellbeing – we create develop self-belief, mental and physical well-being and aspiration of our children, staff and communities.
Our values are the thread that drive excellence and create the culture in which we can all excel.
Our values are: We are brave; we care; we celebrate individuality and we leave no one behind.
---
Strategic Plan
Our 2019-2022 Strategic Plan has been drawn up with the support and engagement of our staff, Trustees and Governors. Our planning reflects the recent expansion of our Trust and our strategy for future growth. It confirms our central commitment to helping our children, staff and communities achieve excellence. Separate School Improvement Plans and budgets are prepared for each school constructed under the strategic objectives outlined in the plan.
The strategic plan period will see further growth and therefore our strategy will be key to ensure we consolidate on our strengths, embed our expectations of excellence and keep a relentless focus on achieving our vision of 'Inspiring all to excellence'. The plan provides the strategic focus to ensure we are able to support our schools to achieve more together than they could have done individually. Providing the clarity of focus and the associated resource and support across our key strategic priorities to ensure we achieve our vision.
We look forward to working with all our schools, our staff and our stakeholders and communities to bring this vision to life, ultimately ensuring our children are inspired and supported to achieve excellence.
As a result of investing in our people, all will have a clear sense of purpose, an appreciation of each individual's unique contribution to the Trust and a strong sense of belonging recognising that the Trust exists to deliver the highest standards of education.
By July 2022, all staff will be able to identify the standards of excellence that pertain to their role, the professional development they have had to support them to reach these and the next steps they will be undertaking.
By July 2022, the Trust will have clarity regarding what excellence looks like across all aspects; it will have designed and will be implementing provision and strategies to secure excellence for all children across all areas.
Maximise opportunities for collaboration ensuring the sharing and synthesis of effective practice in all disciplines.
By April 2022, to have devised a revised growth plan setting out the infrastructure and capacity required to ensure existing academies continue to flourish and those joining are able to benefit from the opportunities the Trust provides.
To enact the plan adapting processes and procedures so the Trust remains sustainable and is an organisation of first choice for schools opting to academise and for the ESFA for schools requiring a sponsor and for local Free Schools.
To transform the emotional health and wellbeing of children and staff so Fierté is identified as a centre of excellence, a leading organisation recognised both locally and nationally for securing excellent outcomes against a suitable research-informed measurement framework by July 2021.